SOLD OUT! HUTCH Issue 20 - Celebrating Culture: Yours, Mine and Ours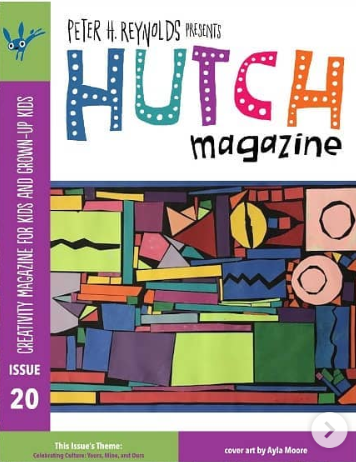 SOLD OUT! HUTCH Issue 20 - Celebrating Culture: Yours, Mine and Ours
Get the latest issue of HUTCH here! The theme for the 10th anniversary and 20th issue of HUTCH is Celebrating Culture: Yours, Mine, and Ours. This issue contains some amazing pieces of work from kids around the world.
HUTCH Magazine is a kids' literary and creativity magazine, published semi-annually under the direction of Peter H. Reynolds, with the help of The Blue Bunny Bookstore, and his nonprofit foundation, The Reynolds Center for Teaching, Learning, and Creativity. The magazine features stories, art, poetry, book reviews, travel logs and interviews submitted by kids. The first issue of HUTCH was published in June of 2008.
Twice a year, The Blue Bunny invites children ages 5(ish)-12(ish) to submit art, poetry, stories, book reviews, photos and other journalistic pieces for consideration. Each issue starts with a central theme, and all submissions are requested to be focused toward positive values.
The magazine is produced with help from a volunteer editing staff and The Reynolds Center, where the layout and design is enhanced with original illustrations and art direction by Peter H. Reynolds. For more information on how to submit, visit HUTCH Magazine online. The Spring 2019 issue's theme will be Small Pleasures and Hidden Treasures: What Makes Your Heart Happy? Deadline to submit will be April 15, 2019.
sold out